Norman & Fatty 2011 puppy
-Yo-Yo is a wonderful addition to our family.  We can not thank you enough for keeping us so well informed of her progress.  Our two little girls (6 & 9) were so excited to get the almost daily photos and videos of the pups.  It made the whole experience of getting a new puppy very exciting for them.  Now that she is ours we promise to try to keep you just as informed as you kept us.
Cyndi, Dan, Jocelyn & Taylor – AKA "YoYo"
Nellie & Tiny 2009 puppy
-I have to tell you, Junior is one hell of retriever. He is doing water retrieves like no other, when he hits the water I would not want to be in his way. I have never had a dog with his energy. Fast, powerful, he just goes!! He is also great at marking, taking a line and he does not want to quit. I always quit before he wants to [on purpose] and it drives him nuts. Last night he was clawing at the tailgate of my truck trying to get at the bumpers when we were done. AWESOME. I love that. What a great personality he has, he wants to kiss everyone! He is one fun dog.
Bret – AKA "Junior"
Nellie & Rebel 2007 puppy
-I really appreciate all the effort you and John put into the pups, from researching the stud dog to making sure Nellie was in good health and all the work to get the pups raised in good conditions with the exposure to birds. I'll do my best to carry on your effort to make Pearl a great dog. 
Mike F
Sand Spring's Pearly Mae JH  -AKA "Pearl"
-Jessie is a great pup you guys did a wonderful job and we would recommend you to anyone . 
9/4/08 I received a e-mail from Eva telling me that Jessie is a rescue dog. Read e-mail below on this amazing animal.
I thought you might like to know about Jessie's latest adventure.  I was at work and John was in the shower and Jessie started going crazy (she don't even bark when someone pulls in the drive) so John gets out of the shower to see what got her all wound up…maybe someone was in the house!  He looked out the window and our neighbor was laying in her driveway passed out and her granddaughter (who couldn't be more than 3) was crying.  John got dressed (always a good idea) and ran out and by that time another neighbor ran out and they got her up and into the house.  She said she had the flu and her son was on the way over so John waited for him.   Everything is ok and Jessie is hero for the day. 
Jessie is now a therapy dog for hospice care.
John & Eva   Moore's Magnum Jessie TDI – AKA "Jessie"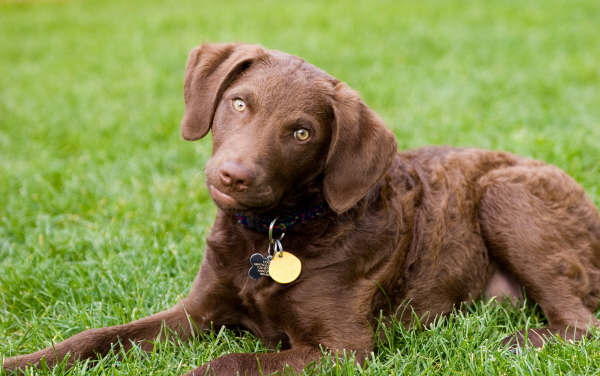 -JoAnn and John's dedication to produce great pups have exceeded our expectations and would highly recommend Sand Spring Kennels to anyone. 
Martin & Denise  – AKA "LouLou"